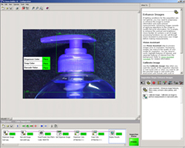 Automated inspection software from National Instruments
Generic or tailor-made training in the use of the software.
2 to 4 days according to the programme and project
Training designed for technicians and engineers in production, methods, quality, industrialisation,...

Download the detailed training plan (available in French)

Read more on NI Vision Builder for Automated Inspection
Details available only in French. We apologize for any inconvenience caused.
Introduction à la vision industrielle et scientifique
- Famille de produits NI dédiés à la vision (cartes, logiciels)
- Exemples d'applications industrielles et scientifiques
- Installation et paramètrage
Organisation du logiciel
- Interface opérateur
- Interface de paramètrage
- Menus, palettes d'outils, options
Utilisation en exploitation
- Choix des séquences de contrôle
- Modification des paramètres
Maintenance
- Sauvegarde / restauration des séquences
- Protocole de communication
- Gestion des entrées / sorties
Configuration
- Diagramme d'états
- Principes d'utilisation des outils de contrôle
- Systèmes de repositionnement
Atelier thématique
Les travaux pratiques sont proposés sur le thème applicatif choisi en concertation avec l'entreprise : automobile, télécom, agro-alimentaire, médecine,...