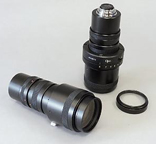 Wide range: standard macro lenses or macro-zoom near the optical microscopy
Multiple options are available for multiple uses: desired magnification, integred lighting...
For very specific applications, we also could provide made-to-measure macro optic.
Some models are suitable for microscope input lenses like Mitutoyo microscope (up to 50x).
Discover our range ranked by manufacturer
Since our range is extremely wide, we have decided to select only the main components for our website.
Please contact us for products that are not referenced on the website.