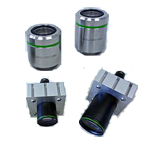 A large range of high quality lenses

Choosing a quality lens adapted to the desired application is critical for the final quality of the image.

Alliance Vision has selected a high-quality range of lenses that perfectly meet the requirements of machine vision, microscopy and image processing, and this in the most diverse environments: variable light conditions, vibrations,...

A wide range of adapters and accessories are also available, allowing users to meet the demands of their configuration.


Since our range is extremely wide, we have decided to select only the main components for our website.
Please contact us for products that are not referenced on the website.