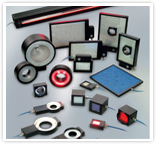 These recent years, LED illuminations are booming to become the standard in machine vision.
A standard with a lot of advantages:
Wide range of color: red, green, blue, white, amber, IR, UV...
Wide range of form: bar ligths, line lights, spot lights, ring lights, area lights, shadow free lights, dome lights, coaxial lights, telecentric lights...
Wide range of option and accessory: optical filters, mounting adaptators, beam moulding optics, coaxial mirror adapter, wavelength testers...
Individually adjustable: power flash (maximum brightness during the shortest possible exposure times), individual brightness settings for each LED, strobe mode...
Long life time (industry-proven construction - more than 50 000 hours), capable of achieving stable images.
Discover our range ranked by manufacturer
Since our range is extremely wide, we have decided to select only the main components for our website.
Please contact us for products that are not referenced on the website.