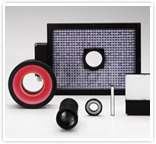 Multiple options for multiple uses
Too often neglected, the care given to lighting is a crucial point in industrial and scientific machine vision: it highlights the information sought.
Choosing the right system is therefore crucial: the right choice will greatly facilitate the image acquisition, processing and analysis.

The range of products we provide is extremely varied and responds to the demands of many industrial and scientific environments.

Since our range is extremely wide, we have decided to select only the main components for our website.


Please contact us for products that are not referenced on the website.